How to make classic boxer
Made of non-stretch cotton. There are slits at the sides.
Arrange design and trimmings as you like.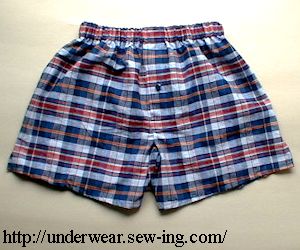 Materials
Cotton cloth.
Button.
Elastic.
Patterns
The patterns are overlapped.
Print on A4 papers for 4 times.
Then cut out each color. Attach with scotch tapes.
The hip size is 96 centimeters.
Cutting
Seam allowance needed.
4cm for the waist, and 1 or 1.5cm for others.
Flies need 5cm at the left, 9cm at the right.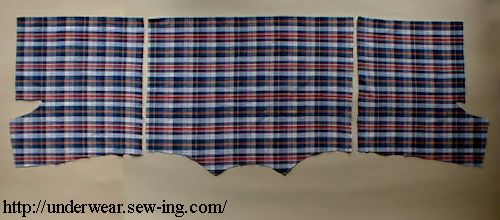 Sewing
Beginners may skip the front.
If you do so, sew up the middle of the front all. And go next.
Making flies
Sew up the middle of the front except opening.
Cut off the extra seam allowance.
Lock stitch on the allowance.
The length of the opening is about 15cm.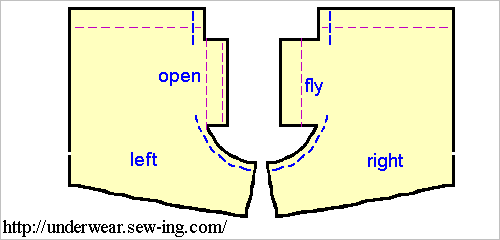 Blue stitch is single (only the left ot the right), red is together.
At the right, fold two and stitch (width is 4cm).
At the left, fold three and stitch.
Make a buttonhole. Sew a button.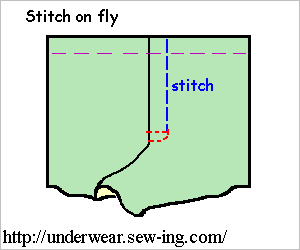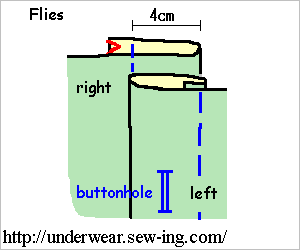 Sew up the front and back at the sides and thighs.
Zigzag stitch or make flat-felled seam at the allowance.
Stitch on the margins of sides and slits.
Fold 3 at the hem and stitch.
Fold the waist and stitch. Pass an elastic.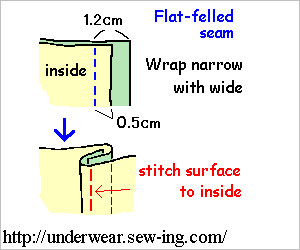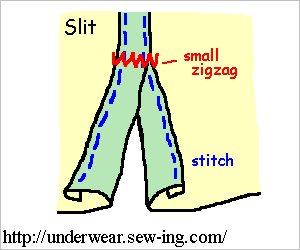 Curved shape
The example of non-slit and curved hem.
It fits for big legs.
When you trim the hem with tapes, don't add margin.
Fold 3 and stitch at the hem.